Understand the business ask, strategy and goals;
Develop a UX plan - dates? What research is needed? What other activities are needed before design can begin?  What resources are needed?
Capture existing research data and perform additional research to better understand the problem being solved;
Develop or refine Personas - "Know thy User"
Understand the competition - What is our differentiator?;
Capture task flows by persona; How does our proposed concept fit into the user's overall workflow, goals, context of use?
Brainstorm low-fidelity sketches and wireframes that clarify and communicate the concept; Sketches should demonstrate the concept across any device type that is part of the end-to-end experience;
Work closely with domain experts to ensure design details are captured;
Validate design assumptions through user testing;
Work with stakeholders to develop and organize user stories into themes.
Capture the Details and Prototype
Develop detailed specifications - Design System patterns, visual design, animation;
Develop a prototype at the level of fidelity needed to represent the complete user experience for all target platforms;
Validate with iterative testing of the concept prototype.
Nurture Design to Reality
​​​​​​​
UX is an integral member of the Agile team - Daily stand-ups, sprint deliverables, UX resources allocated by sprint;
Test and provide feedback along the way.
Collect Ongoing Feedback - Loop Back into Design
Test to measure success against goals/KPIs - Quantitative testing; A/B testing;
Ongoing customer research - Site visits, usability testing, customer forums;
Develop a feedback loop to integrate feedback into the product design.
A Larger Picture of My Design Process within an Organization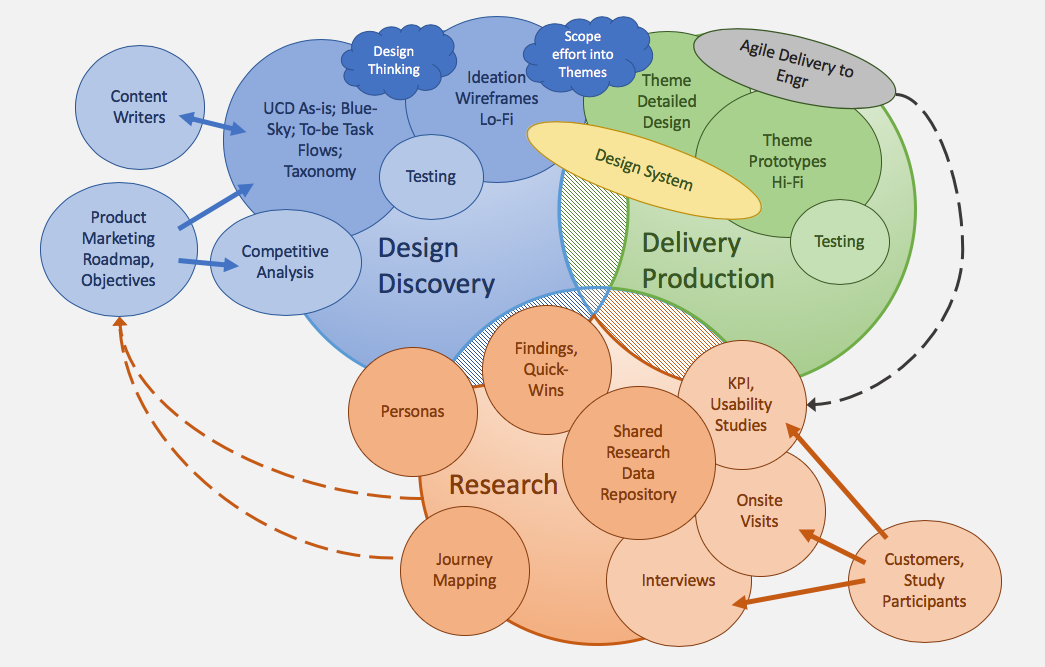 Research is iterative and ongoing - Develop a feedback loop into Design and Discovery;
Research data should be shared knowledge within the design team - Maintain a searchable repository;
Understand your users - Develop and prioritize personas;
Workflow matters - How does your product fit?  
Understand context of use - How is your product used?
Analysis elevates confidence.
Design can't begin until you understand the problem, the user's tasks, their goals and constraints, and their context of use;
A stakeholder driven User Centered Design process (Design Thinking) is critical to capture the team's best effort towards a solution and to ensure a shared understanding of the design, thus minimizing the effort to communicate design;
Simple is Hard (I know.. cliche, but..) - Iterative design and testing will lead to the optimal outcome - It's got to be what you believe;
Regardless of the domain or target market segment, establishing trust and appealing to the user's emotion is important;
Telling stories and mapping the user experience creates empathy and communicates the design space.
Evolve low-fidelity prototypes to the level of detail needed to hand-off to engineering; A mature Design System minimizes the need for high-fidelity documentation
​​​​​​​;
Details can be very important.. Feedback, Micro-interactions, and the content of messaging lead to a better user experience;
Being a part of the Agile team is critical.  UX resources and deliverables should be managed as any other resource.